OUR SERVICES
Our Heartland team is here to ensure that you, our esteemed customer, is provided with unmatched customer service, along with the highest quality finished product to make sure you are able to get back on the road quickly.  Whether you are in need of turbo balancing, cleaning, rebuild, upgrades or general inspection, Heartland Turbo Rebuilds is ready to help meet your needs.
tURBO balancing
We operate a CWT Industries turbo balancer for shaft and wheel components in order to ensure a long-lasting, reliable turbo.  We balance the shaft on each turbo that comes in for repair to its specified tolerance. The balance of the shaft by computer technology allows the turbocharger systems to work in optimal conditions and avoid machinery vibration. 
You may also have your turbocharger components balanced without having the turbo rebuilt.  We will need the compressor wheel, locknut, turbine shaft and thrust parts.  Please visit the "Contact Us" section of our website to get directions for shipping.  Prices for the balancing of the shaft start at $65.  These rates do not include the return shipping costs.
TURBO CLEANING
We hand-clean delicate parts and use a vapor-honing process to remove dirt, contaminants, rust, corrosion and old paint.  This process uses a combination of water, compressed air, and gentle media.  A clean turbo is vital for peak engine performance. 
tURBO rebuilding
A standard rebuild includes parts cleaning, shaft balancing, a complete rebuild kit (journal bearings, thrust bearing, clips, seals, washers, piston rings), polishing and/or painting (when applicable).  A standard rebuild does not include the compressor wheel, turbine wheel, turbine shaft, bearing housing, etc.  We will contact you if any of these internal parts are damaged before proceeding with the rebuild so there are no surprise costs. 
Rebuilds can vary in cost according to the extent of damage and your requests.  The pricing of each rebuild is case-specific; therefore, we have to inspect the turbo before we give you a final quote.  We will communicate to you exactly what to expect. 
Our VGT rebuilds follow the same guidelines; however, they do produce additional hours of labor service. 
TURBO UPGRADES
Some upgrades we provide include:
Billet Wheel Upgrade
Custom Machining
Stepped-gap piston rings
360* thrust bearing 
Upgrades may not be available for every turbo.  Prices vary according to the type of turbo.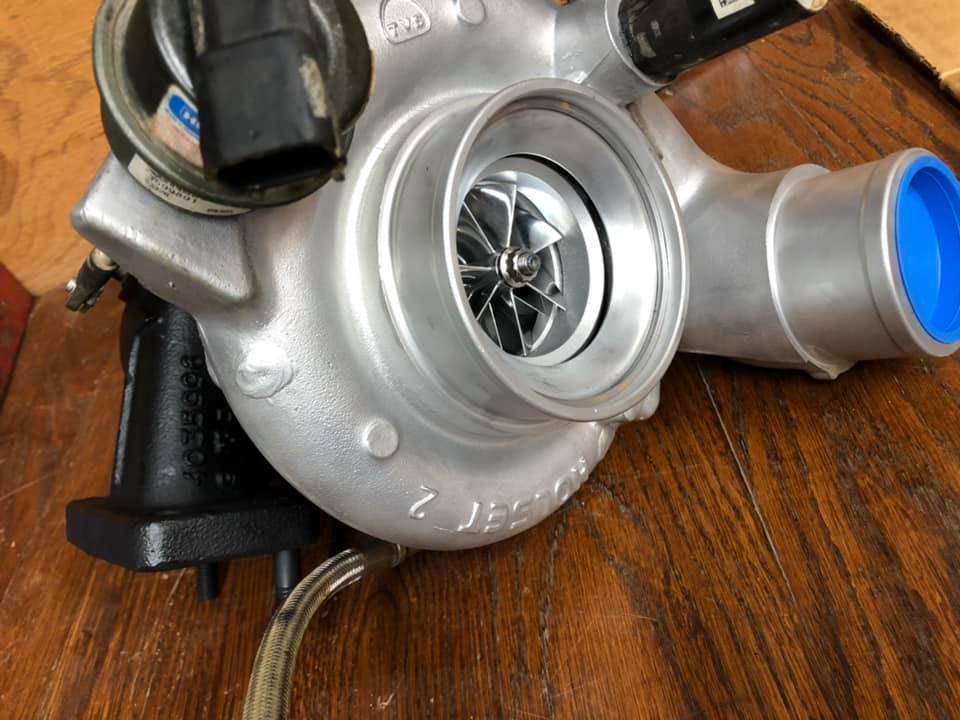 tURBO INSPECTION
There is a mandatory inspection fee of $50 to inspect your turbo.  This fee is waived if you proceed with the repair.  This allows us to determine exactly which parts need to be replaced and to give you a genuine quote.
Ship for service option
Heartland Turbo Rebuilds accepts shipped turbos to our location for service and rebuilds.
Please pack turbocharger carefully sealed in a plastic bag and wrapped so there is no movement during shipping.  *We have found that bubble wrap and a small white Styrofoam cooler work very well.* 
Please print the Customer Information page and ship with your turbo to: 
Heartland Turbo Rebuilds
250 Ross Crossing Rd
Kevil, KY  42053
Contact Us
Have questions?  Need more information?  Give us a call or send an email.  We look forward to talking with you soon.
E-MAIL
HeartlandTurboRebuilds@gmail.com
ADDRESS
Heartland Turbo Rebuilds
250 Ross Crossing Rd
Kevil, KY  42053